Serie: Brooklyn Bruisers, #3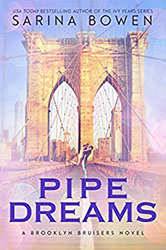 Klappentext:
Mike Beacon is a champion at guarding the net, but off the ice, he's not so lucky. A widower and a single father, he's never gotten over Lauren Williams, the ex who gave him the best year of his life. When Lauren reappears in the Bruisers' office during the play-offs, Beacon sees his chance to make things right.
Lauren hates traveling with the team she used to manage and with the man who broke her heart. There's still undeniable sexual tension running between her and Mike, but she won't go there again. She's focused on her plans for the future—she doesn't need a man to make her dreams of motherhood come true.
Lauren plays her best defensive game, but she's no match for the dark-eyed goalie. When the field of play moves to Florida, things heat up on the beach.
Only one of Mike's fans doesn't approve—his teenage daughter. But a true competitor knows not to waste the perfect shot at love.
Kommentar:
Trotz einiger Kritik an Band 2 der Serie hatte ich Band 3 vorbestellt und direkt am Erscheinungstag gelesen. Er konnte meine Erwartungen aber in keiner Weise erfüllen. Die folgende Begründung enthält Spoiler, also Achtung!