Serie: Chicago Rebels, #1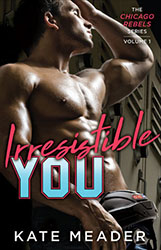 Inhalt:
Three estranged sisters inherit their late father's failing hockey franchise and are forced to confront a man's world, their family's demons, and the battle-hardened ice warriors skating into their hearts.
Harper Chase has just become the most powerful woman in the NHL after the death of her father Clifford Chase, maverick owner of the Chicago Rebels. But the team is a hot mess—underfunded, overweight, and close to tapping out of the league. Hell-bent on turning the luckless franchise around, Harper won't let anything stand in her way. Not her gender, not her sisters, and especially not a veteran player with an attitude problem and a smoldering gaze designed to melt her ice-compacted defenses.
Veteran center Remy "Jinx" DuPre is on the downside of a career that's seen him win big sponsorships, fans' hearts, and more than a few notches on his stick. Only one goal has eluded him: the Stanley Cup. Sure, he's been labeled as the unluckiest guy in the league, but with his recent streak of good play, he knows this is his year. So why the hell is he being shunted off to a failing hockey franchise run by a ball-buster in heels? And is she seriously expecting him to lead her band of misfit losers to a coveted spot in the playoffs?
He'd have a better chance of leading Harper on a merry skate to his bed…
Kommentar:
Nachdem ich im März die Novella »In Skates Troubles« gelesen habe, die mir ausnehmend gut gefallen hat, hab ich mir unverzüglich Band 1 der Serie bestellt. Der wurde jetzt geliefert und hat mich tatsächlich dazu gebracht, in meiner derzeit knappen Freizeit nach einem Buch zu greifen – und auch dranzubleiben.
»Irresistibly You« dreht sich um die älteste von drei Halbschwestern, die nach dem Tod ihres Vaters gemeinsam dessen Eishockey-Club erben. Behalten dürfen sie die »Chicago Rebels« allerdings nur, wenn sie es schaffen, die Play-offs zu erreichen – was angesichts der schlappen Truppe nicht so einfach wird. Harper, die schon die ganze Zeit in der Geschäftsführung mitgearbeitet hat, wirft also erst mal den General Manager raus (der u.a. für die Zusammenstellung des Teams verantwortlich ist) und übernimmt seine Aufgaben. In dieser Funktion ertauscht sie Remy DuPre, einen gestandenen Spielmacher, den sie aufgrund seiner spielerischen Fähigkeiten und seiner Persönlichkeit für den Heilsbringer hält. Dem Cajun aus New Orleans passt dieser Tausch allerdings überhaupt nicht, denn er will nach der Saison seine Karriere beenden und vorher noch schnell den Stanley Cup gewinnen. Letzteres scheint mit den Rebels ein Ding der Unmöglichkeit, also erpresst er Harper damit, dass er nur sein Bestes für den Club geben wird, wenn sie ihn Ende Januar an ein Team abgibt, das Chancen hat, den Cup zu gewinnnen. Da er in Boykott tritt, als sie sich weigert, gibt sie schließlich zähneknirschend nach – doch womit beide zu diesem Zeitpunkt nicht rechnen, ist die Tatsache, dass ihr Verhältnis keine Arbeitsbeziehung bleiben wird. Und das verkompliziert die ohnehin vertrackte Situation zusätzlich …
Okay, okay, die Plausibilität dieses Settings dürfte so ungefähr gegen null tendieren. Drei Frauen als Clubbesitzerinnen, das mag ja gerade noch angehen – aber nur, wenn sie sich aus dem Geschäft raushalten und stillschweigend Geld zuschießen. Eine Frau als General Manager eines Hockeyclubs? Undenkbar in der heutigen vollkommen von Männern dominierten National Hockey League. Ebenso undenkbar wie die Existenz eines schwulen General Managers (der – noch – bei einem anderen Club arbeitet) oder eine offene Beziehung zwischen einer Clubbesitzerin/GM und einem ihrer Spieler. Diese Arbeitsverweigerungs-/Erpressungsgeschichte und ein paar andere Details erscheinen mir auch nicht übermäßig realistisch, aber wisst ihr was? Geschenkt! Das Buch ist trotzdem ein wirklich schöner, gefühlvoller Liebesroman mit tollen Figuren.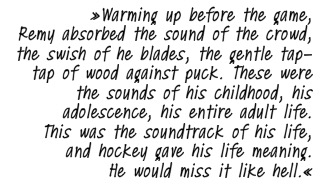 Harper ist eine sympathische Heldin, wenn auch (aus verständlichen Gründen) ein bisschen spröde und verbissen, aber das macht Remy tausendmal wett. Na gut, er ist vielleicht ein Erpresser und seine Arbeitseinstellung ist (zunächst) kein bisschen professionell, aber davon abgesehen ist er einfach großartig. Charmant. Humorvoll. Fürsorglich. Selbstsicher. Hingebungsvoll. Entschlossen. Sexy. Er ist fast zu gut, um wahr zu sein, insofern ist es kein Wunder, dass Harper Remy am Ende nicht widerstehen kann, obwohl sie es verzweifelt versucht. Keine Frau könnte ihm widerstehen – und sollte es auch nicht, wenn sie einen Funken Verstand im Kopf hat.
Die Chemie zwischen Harper und Remy ist überwältigend und die Sexszenen (nicht allzu viele und nicht allzu detailliert) sind wirklich heiß. Aber nicht nur die Sexszenen sind von großer Intensität, sondern auch einige andere. Kompliment an die Autorin. Ich freu mich sehr auf die weiteren Bücher der Serie.


12/15