Auf besonderen Wunsch von Lucina, die sich nicht mit riesigen Backlists rumschlagen und stattdessen neue Autorinnen für uns ausprobieren will, anbei mal eine Auswahl von Historical-Romance-Debüts der letzten Zeit. Wie immer besteht keinerlei Anspruch auf Vollständigkeit! :)
(Dezember 2011)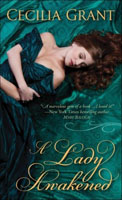 Cecilia Grant: Blackshear Family 01 – A Lady Awakened
Newly widowed and desperate to protect her estate and beloved servants from her malevolent brother-in-law, Martha Russell conceives a daring plan. Or rather, a daring plan to conceive. After all, if she has an heir on the way, her future will be secured. Forsaking all she knows of propriety, Martha approaches her neighbor, a London exile with a wicked reputation, and offers a strictly business proposition: a month of illicit interludes . . . for a fee.
Theophilus Mirkwood ought to be insulted. Should be appalled. But how can he resist this siren in widow's weeds, whose offer is simply too outrageously tempting to decline? Determined she'll get her money's worth, Theo endeavors to awaken this shamefully neglected beauty to the pleasures of the flesh—only to find her dead set against taking any enjoyment in the scandalous bargain. Surely she can't resist him forever. But could a lady's sweet surrender open their hearts to the most unexpected arrival of all . . . love?
Demnächst: Blackshear Family 02 – A Gentleman Undone (Mai 2012)
(Januar 2012)
Jillian Stone: The Gentlemen of Scotland Yard 01 – An Affair with Mr. Kennedy
London, 1887. Part stoic gentleman, part fearless Yard man, Zeno "Zak" Kennedy is an enigma of the first order. For years, the memory of a deadly bombing at King's Cross has haunted the brilliant Scotland Yard detective. His investigation has zeroed in on a ring of aristocratic rebels whose bloody campaign for Irish revolution is terrorizing the city. When he discovers one of the treacherous lords is acquainted with his free-spirited new tenant, Cassandra St. Cloud, his inquiry pulls him unexpectedly close to the heart of the conspiracy—and into the arms of a most intriguing lady. Cassie is no Victorian prude. An impressionist painter with very modern ideas about life and love, she is eager for a romantic escapade that is daring and discreet. She sets her sights on her dour but handsome landlord, but after she learns their meeting was not purely accidental, she hardly has a chance to forgive her lover before their passionate affair catapults them both into a perilous adventure.
(Gelesen und für nicht besonders toll befunden, s. hier!)
Demnächst: Gentlemen of SY 02 – A Dangerous Liaison with Detective Lewis (Juni 2012), Gentlemen of SY 03 – A Private Duel with Agent Gunn (November 2012)
Außerdem schreibt sie eine zweite Serie: Phaeton Black, Paranormal Investigator 01 – The Seduction of Phaeton Black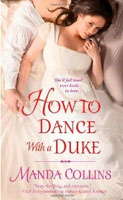 Manda Collins: Ugly Ducklings 01 – How to Dance with a Duke
Miss Cecily Hurston would much rather explore the antiquities of Egypt than the uncharted territory of marriage. But the rules of her father's exclusive academic society forbid her entrance unless she weds one of its members. To clear her ailing father's name of a scandalous rumor, Cecily needs to gain admission into the Egyptian Club—and is willing to marry any old dullard to do it.
Lucas Dalton, Duke of Winterson, is anything but dull. He's a dashing and decorated war hero determined to help Cecily—even if that means looking the other way when she claims the dance card of Amelia Snow, this season's most sought-after beauty. But Lucas has a reason for wanting Cecily to join the Egyptian Club: His brother went missing during one of Lord Hurston's expeditions to Egypt. An alliance with the explorer's bluestocking daughter could bring Lucas closer to the truth about what happened…or it could lead him to a more dangerous love than either he or Cecily could have imagined….
Demnächst: Ugly Ducklings 02 – How to Romance a Rake (Juli 2012)
Anna Randol: A Secret in Her Kiss
A rare beauty, raised in the exotic heart of the Ottoman Empire, Mari Sinclair knows it's time to end her career as a British spy when she narrowly avoids a brush with death. Unfortunately her employers think otherwise—and they are not above using blackmail to keep Mari in the Game.
Saddled with a handsome, duty-obsessed "minder" to ensure that she completes—and survives—one last mission, Mari is incensed…for her guardian, Major Bennett Prestwood, is simply too dedicated, too unbending, and too disarmingly attractive. But in the face of dark secrets and deadly treacheries, as the true peril to Mari is slowly revealed, loyal soldier Bennett realizes that, to save and win this extraordinary woman, he will have to do the unthinkable and break the rules—rules that passion and desire have suddenly, irrevocably changed.
Demnächst: Sins of a Virgin (August 2012)
(Februar 2012)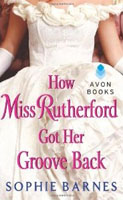 Sophie Barnes: How Miss Rutherford Got Her Groove Back
Of course, having the man you've loved forever announce his engagement to your (now very former) best friend will do that.
Emily is sure nothing good could possibly come out of this horrid situation. But she lets her sisters—along with Francis Riley, the delectable but brooding Earl of Dunhurst—convince her that a season in London will be just the thing.
Now Emily has a choice: sulk in a corner while her sisters enjoy the glitter of the ton . . . or become the belle of the ball, dazzling everyone on an earl's arm. But as Francis helps Emily get back on her feet, she quickly realizes that a childhood crush is nothing compared to the power of true love.
Demnächst: Sommersby 01 – Lady Alexandra's Excellent Adventure (Mai 2012)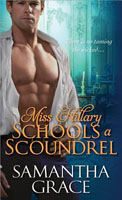 Samantha Grace: Beau Monde 01 – Miss Hillary Schools a Scoundrel
Debonair bachelor Lord Andrew Forest lives for pleasure and offers no apologies. But he receives a dose of his own medicine when his family's entrancing houseguest beds him, then disappears without so much as a by-your-leave. He'd like to teach the little vixen a thing or two about how to love and man…if he can find her.
After the dashing man of her dreams is revealed as a lying scoundrel, heiress Lana Hilary is ready to seek a match with a respectable gentleman—if only they weren't so dreadfully boring. Unable to rein in her bold nature for long, Lana flirts with trouble and finds herself entangled with exactly the type of man she's vowed to avoid.
Demnächst: Beau Monde 02 – Lady Amelia's Mess and a Half (Juni 2012), Miss Lavigne's Little White Lie (2012)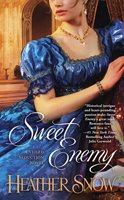 Heather Snow: Veildes Secuction 01 – Sweet Enemy
Geoffrey Wentworth, the Earl of Stratford, is a war hero focused on affairs of king and country rather than affairs of the heart. Nevertheless, his mother is playing matchmaker and has invited potential brides to visit the family estate. Geoffrey resigns himself to playing host to a gaggle of husband-hunters more interested in his title than in him—until he unexpectedly meets one notable and intriguing exception.
Miss Liliana Claremont has no interest in being an earl's wife, least of all Wentworth's—the son of the man she believes murdered her father. Liliana is determined to find evidence of the crime, but her behavior rouses the earl's suspicions as well as her own undeniable attraction to a man she thought was her enemy. As Geoffrey and Liliana explore their growing passion for one another, the truth behind their fathers' enmity threatens to destroy their newfound love…
Demnächst: Veiled Seduction 02 – Sweet Deception (August 2012)
(März 2012)
Leigh LaValle: The Runaway Countess
Once the darling of high society, Mazie Chetwyn knows firsthand how quickly the rich and powerful turn their backs on the less fortunate. Orphaned, penniless and determined to defy their ruthless whims, she joins forces with a local highwayman who steals from the rich to give to the poor.
Then the pawn broker snitches, and Mazie is captured by the Lord Lieutenant of Nottinghamshire. A man who is far too handsome, far too observant…and surely as corrupt as his father once was.
Sensible, rule-driven Trent Carthwick, twelfth Earl of Radford, is certain the threat of the gallows will prompt the villagers' beloved Angel of Kindness to reveal the highwayman's identity. But his bewitching captive volunteers nothing—except a sultry, bewildering kiss.
And so the games begin. Trent feints, Mazie parries. He threatens, she pretends nonchalance. He cajoles, she rebuffs. Thwarted at every turn, Trent probes deep into her one vulnerability—her past. There he finds the leverage he needs and a searing truth that challenges all he believes about right and wrong.
(April 2012)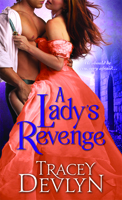 Tracey Devlyn: A Lady's Revenge
British agent Cora deBeau has spent the last three years seducing secrets from the most hardened of French spies while searching for her parents' killer. When her latest assignment goes awry, she suffers at the hands of her French captor until Guy Trevelyan, the Earl of Helsford and master cryptographer, saves her during a daring rescue. Scarred and wary of men, Cora shies away from the one man who could heal her savaged heart.
After rescuing Cora from a French dungeon, Guy discovers it was one of his deciphered messages that led to her captivity. While her enemy tracks them across England, Guy strives to earn her forgiveness. But will he find the scars on her wounded soul run too deep?
(Juni 2012)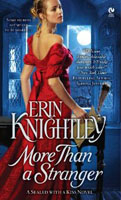 Erin Knightley: Sealed With a Kiss 01 – More Than a Stranger
When his family abandoned him at Eton, Benedict Hastings found an unexpected ally in his best friend's sister. Her letters kept him going— until the day he had to leave everything behind. Years later, Benedict has seen his share of betrayal, but when treachery hits close to home, he turns to his old friend for safe haven…
After five torturous years on the marriage circuit, Lady Evelyn Moore is finally free to live her life as she wishes. So when her brother shows up with a dashing stranger, she finds herself torn between her dreams…and newfound desires.
Despite his determination to keep Evie at a distance, Benedict cannot deny the attraction that began with a secret correspondence. Yet as they begin to discover each other, the dangers of Benedict's world find them, threatening their lives, their love, and everything they thought they could never have…
Demnächst: Sealed With a Kiss 02 – Tempting Lord Raleigh (2012)
(Juli 2012)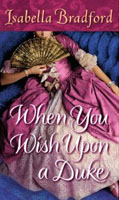 Isabella Bradford: Wylder Sisters 01 – When You Wish Upon a Duke
Raised in the Dorset countryside, Lady Charlotte Wylder doesn't care one bit about well-bred decorum. The dark-haired, blue-eyed beauty would rather ride a horse than attend a stuffy ball. So when Charlotte learns that she is to leave immediately for London to wed the Duke of Marchbourne, a perfect model of aristocratic propriety, she is less than enchanted with her arranged marriage.
But to her delight, their first encounters are brazenly flirtatious, and their wedding night burns with passion. March's broad shoulders and dark countenance make Charlotte want to rip every button off his waistcoast. She may even be falling in love with her new husband. Yet whenever their desire boils over, March reluctantly pushes Charlotte away. Will past secrets and present misunderstandings mire their marriage in scandal, or serve to strengthen a bond that is destined to last a lifetime?
Demnächst: Wilder Sisters 02 – When the Duchess Says Yes (Juli 2012), Wilder Sisters 03 – When the Duke Found Love (November 2012)
(August 2012)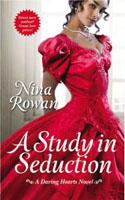 Nina Rowan: Daring Hearts 01 – A Study in Seduction
The lovely Lydia Kellaway can solve the most complex puzzles. The one challenge she can't top? Managing the most infuriating man she's ever encountered.
Alexander Hall, Viscount Northwood, has purchased a one-of-a-kind locket from a pawnshop, unaware of the priceless sentiment it holds for Lydia. The gentlemanly thing to do would be to simply return it. But Alexander is curious to see just how bold this brilliant beauty will be…
What begins as a playful wager quickly escalates. As their sizzling attraction grows, even Lydia can't account for the feelings Alexander arouses with his smile, or the fire he ignites with his touch. But when a dark family secret is suddenly thrown into the equation, it just might divide them forever . . .
(September 2012)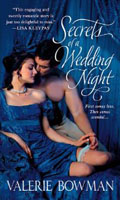 Valerie Bowman: Secrets of a Wedding Night
Lily Andrews, the beautiful, headstrong Countess of Merrill, is rumored to have authored a scandalous pamphlet. Secrets of a Wedding Night has scared the ton's young ladies away from the marriage mart. The young widow soon meets her match when recently jilted Devon Morgan, Marquis of Colton, issues her a challenge: write a retraction or prepare to be seduced!