Lora Leigh: Forbidden Pleasure
8. Teil der Bound Hearts Series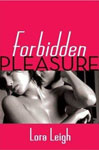 Inhalt:
People have heard of fleeting rumors about The Club. Located just outside Washington, D.C., only its members know where men go when they want to indulge the desire to share their women with a carefully selected male partner. John »Mac« McCoy resigned his membership from The Club when he married Keiley Hardin. Tempting and innocent, sweet and sexy, she would never accept Mac's desire to share her with another man. However, Mac's fantasies of sharing his wife haunt his dreams. And his passions. Unable to wait any longer to draw his best friend Jethro Riggs into his marriage, Mac invites Jethro to their home with the intention of drawing Keiley into the pleasures that only be achieved when two men love the same woman. But there's more going on in Mac's neck of the woods than a little additional pleasure. A past case, a stalker that likes to playing games and his wife is now in the middle of it all. Passion and pleasure, danger and desire combine as forbidden pleasure becomes an addiction none of them can escape.
Kommentar:
Wow. Das ist mal ein echter Erotikroman mit einer Vielzahl von prickelnden Szenen, in denen es richtig zur Sache geht. Man sollte allerdings keine Probleme mit Dreiecksbeziehungen und all ihren möglichen Spielarten haben, denn eine »ménage à trois« zwischen zwei Männern und einer Frau ist das Thema des Buches.
Es gibt zudem sogar eine sinnvolle Handlung, die die Entstehung der Dreierbeziehung zwischen dem Ehepaar und dem alten »Menage-Freund« sowie den inneren Konflikt der bislang monogamen Protagonistin beschreibt, die irgendwo zwischen Wut und Entsetzen, Faszination und Abscheu vor dieser Beziehung und sich selbst schwankt. Leigh beschreibt diesen Gefühlsaufruhr von Keiley ziemlich gut und nachvollziehbar. Nicht mehr nachvollziehbar waren hingegen die ausgedehnten und sich ständig wiederholenden Gedanken und Erklärungsversuche für den Wunsch der Protagonisten nach dieser doch recht speziellen Beziehungsform – diese »Rechtfertigungen« wird aber vermutlich ohnehin nur derjenige verstehen, der dieses Faible teilt.
Die eingebaute Stalker-Nebenhandlung stört zwar nicht weiter, es hätte sie m.E. aber auch nicht unbedingt gebraucht – zumal sie ohnehin eher nur als Seitenfüller zu dienen scheint und nicht wirklich gut ausgearbeitet ist, sodass auch die Auflösung recht kurz ausfällt.
Wertung:
13/15 – Ein fast perfekter Erotikroman, dem an einigen Stellen eine kleine Straffung gut getan hätte.