Die letzte Druckfrisch-Ausgabe für Juli – vorwiegend mit englischen Büchern.
[Dressler]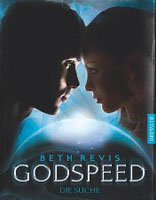 Beth Revis: Godspeed 02 – Die Suche (OT: A Million Suns)
Die Zukunft für Amy und Junior liegt in weiter Ferne. Während ihre Gefühle füreinander stärker werden, wird die Lage auf dem Raumschiff, der "Godspeed", immer bedrohlicher. Ohne die kontrollierende Droge Phydus, das heißt ihrem freien Willen unterworfen, sind die Menschen an Bord überfordert. Die Stimmung droht zu kippen. Auch die Technik entpuppt sich als trügerisch: Wird nur eine Gruppe Auserwählter das Ziel, die Zentauri-Erde, erreichen? Der Druck auf Amy und Junior wächst: Wer ist Freund, wer Feind? Und wohin führt sie ihre Liebe?
[Carl Hanser Verlag]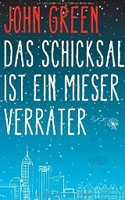 John Green Das Schicksal ist ein mieser Verräter (OT: The Fault In Our Stars)
»Krebsbücher sind doof«, sagt die 16-jährige Hazel, die selbst Krebs hat. Sie will auf gar keinen Fall bemitleidet werden und kann mit Selbsthilfegruppen nichts anfangen. Bis sie in einer Gruppe auf den intelligenten, gut aussehenden und umwerfend schlagfertigen Gus trifft. Der geht offensiv mit seiner Krankheit um. Hazel und Gus diskutieren Bücher, hören Musik, sehen Filme und verlieben sich ineinander – trotz ihrer Handicaps und Unerfahrenheit. Gus macht Hazels großen Traum wahr: Gemeinsam fliegen sie nach Amsterdam, um dort Peter Van Houten zu treffen, den Autor von Hazels absolutem Lieblingsbuch.
[Englisch]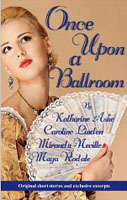 Katharine Ashe, Caroline Linden, Miranda Neville, Maya Rodale: Once Upon a Ballroom
An original anthology of short stories set in the glittering ballrooms of Regency England, by Caroline Linden, Katharine Ashe, Maya Rodale, and Miranda Neville.

Discover how a masked ball can turn friends into lovers … how a wicked, wonderful dream can indeed come true … how sometimes behaving as one should not can lead to the most passionate results … and how the truest love is a bond no scandal can shake. Anything can happen at a ball— scandal, passion, disaster … and true love.

Featuring:
The Truth About Love by Caroline Linden
Ask Me to Dance by Katharine Ashe
Once Upon a Dream by Maya Rodale
The School of Wooing for Inept Book Collectors by Miranda Neville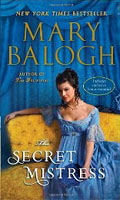 Mary Balogh: The Dudleys/Prequel – The Secret Mistress
While Lady Angeline Dudley's pedigree dictates that she must land a titled gentleman, the irrepressible beauty longs for a simple, ordinary suitor. So when Edward Ailsbury, the new Earl of Heyward, defends her honor with unmatched civility, Angeline thinks that she has found true love. Persuading the earl is another matter entirely. From her unconventional fashion sense to her hoydenish antics, Angeline is the last woman on earth for Edward. And yet a stolen kiss awakens something primal within him. Naturally, being a gentleman, he does the right thing after compromising a lady: He offers marriage. The proposal is born of duty, but will Angeline cause Edward to forget about decorum behind closed doors, where sensuality and seduction play wicked games? For a proper wife by day can become a husband's secret mistress by night, when delicious desire rules.

Includes Mary Balogh's »Now a Bride«, featuring extra scenes from her Mistress series.
Margo Maguire: The Warrior Laird
Haunted by horrors of his childhood, Dugan MacMillan has sworn to protect his clan at any cost . . . even if he must search for a rumored treasure and kidnap a beautiful thief to do it.

The MacMillan laird has never crossed paths with anyone quite like Lady Maura Duncanson. After he saved her from certain death, the comely vixen had the audacity to disappear with his treasure map, his only key to restoring his clan. Dugan has no qualms about taking Maura hostage, especially when he learns she is to wed a wealthy old baron who will pay him a fortune in ransom . . . a fortune his people desperately need.

But, of course, Maura has no intention of returning to her despicable fiancÉ. And the longer Dugan spends in the bewitching hellion's presence, the less willing he is to surrender her to any man . . . at any price.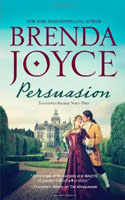 Brenda Joyce: Spymasters Men 02 – Persuasion
Amelia Greystone was deeply in love when the Earl of St. Just abruptly ended his courtship and left Cornwall ten years earlier. So she is stunned when Simon returns, recently widowed. Now she must forget the past they shared and his betrayal and console him as any neighbor would. Simon has changed—he is dark and haunted now—but he can still make her reel with a single look. When he offers her the position of housekeeper, Amelia knows she must refuse. But for the sake of his children, she throws all caution to the wind….
A British spy, Simon Grenville is now playing both sides in a time of war, his goal to keep his sons safe. Yet when he is brought face-to-face with the woman he once loved, he realizes nothing about his feelings for Amelia has changed—if anything, they are even stronger. Still, Simon knows he must stay away from Amelia; his life is too dangerous now. But sometimes passion is too strong to be denied….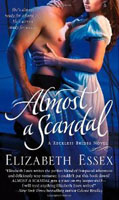 Elizabeth Essex: The Reckless Brides 01 – Almost a Scandal
Bold, brazen, and beautiful, the Reckless Brides refuse to play by society's rules of courtship. But – come hell or high water – they always get their man…A Lady In Disguise – For generations, the Kentshave served proudly with the British Royal Navy. So when her younger brother refuses to report for duty, Sally Kent slips into a uniform and takes his place – at least until he comes to his senses. Boldly climbing aboard the Audacious, Sally is as able-bodied as any sailor there. But one man is making her feel tantalizingly aware of the full-bodied woman beneath her navy blues…A Man Overboard – Dedicated to his ship, sworn to his duty – and distractingly gorgeous – Lieutenant David Colyear sees through Sally's charade, and he's furious. But he must admit she's the best midshipman on board – and a woman who tempts him like no other. With his own secrets to hide and his career at stake, Col agrees to keep her on. But can the passion they hide survive the perils of a battle at sea? Soon, their love and devotion will be put to the test…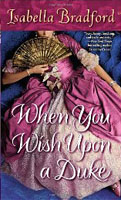 Isabella Bradford: Wylder Sisters 01 – When You Wish Upon a Duke
Raised in the Dorset countryside, Lady Charlotte Wylder doesn't care one bit about well-bred decorum. The dark-haired, blue-eyed beauty would rather ride a horse than attend a stuffy ball. So when Charlotte learns that she is to leave immediately for London to wed the Duke of Marchbourne, a perfect model of aristocratic propriety, she is less than enchanted with her arranged marriage.

But to her delight, their first encounters are brazenly flirtatious, and their wedding night burns with passion. March's broad shoulders and dark countenance make Charlotte want to rip every button off his waistcoast. She may even be falling in love with her new husband. Yet whenever their desire boils over, March reluctantly pushes Charlotte away. Will past secrets and present misunderstandings mire their marriage in scandal, or serve to strengthen a bond that is destined to last a lifetime?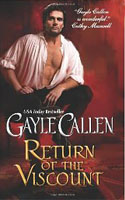 Gayle Callen: Brides of Redemption 01 – Return of the Viscount
Desperation drove Cecilia Mallory to seek a union with a stranger—one who would wed her sight unseen and grant her full access to her inheritance with no expectations whatsoever. She anticipated, perhaps, an older, undesirable, equally desperate husband—never the young, vibrant, and devastatingly attractive man who answered her call. What could such a man really be after?

Unknown to Cecilia, Viscount Michael Blackthorne, a soldier and gentleman, owes a debt of honor to Lady Cecilia's father, and granting her unusual request to wed seemed a worthy way to repay it. But an unseen threat perilously close at hand is convincing Michael that his true responsibility is to protect the beautiful, warm-hearted lady he has married . . . the woman he is unexpectedly coming to love.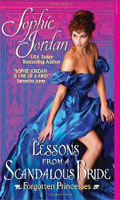 Sophie Jordan: Forgotten Princesses 02 – Lessons from a Scandalous Bride
No one knows this better than Miss Cleopatra Hadley, who went from poverty to plenty when she discovered one of England's richest men was her true father who wanted her to share his wealth . . . if she married into the upper echelons of Society. A high price to pay for someone whose mother taught her just how dangerous a marriage could be.

An imposing yet impoverished Scots nobleman, Lord Logan McKinney knows he must wed some vapid title-hunter with a substantial dowry in order to restore his once-thriving estate. Having the vibrant Cleo nearby, however, makes his task even more unpalatable—for she tempts him like no other woman . . . just as he's precisely the sort of man she most fears: exciting, unpredictable, fiercely passionate. But when attraction proves too powerful, they succumb to a kiss that quickly leads to lessons too scandalous for even the darkest nights . . .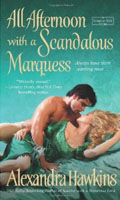 Alexandra Hawkins: Lords of Vice 05 – All Afternoon with a Scandalous Marquess
Simon Jefferes, the Marquess of Sainthill, has done the unthinkable—he's fallen in love. The so-called "Saint" has spent his life gambling, dallying with women, and satisfying his every whim. And he fully intended to continue his wicked ways, until he met the mysterious, exotic, and irresistible Madame Venna—the one woman he can't have…and the only one he's ever wanted for more than an evening.

The proprietress of the Golden Pearl, one of London's most exclusive brothels, Madame Venna takes pride in the lush, decadent club she's created. With a half-mask to conceal her identity, she's careful to safeguard something even more valuable—her heart. But Saint is determined to tear down the walls she's built around herself, and to finally expose the truth—that Madame Venna is a woman very much in love…with him.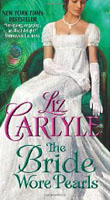 Liz Carlyle: Fraternitas Aurea Crucis 03 – The Bride Wore Pearls
Rance Welham, the Earl of Lazonby, has survived scandal and disgrace, even evading the Queen's justice at the end of a hangman's rope. Now he's about to gamble everything on something far more dangerous—desire.

An exotic and elegant beauty, Lady Anisha Stafford fled her native India to seek refuge within London's secretive St. James Society. But accepting protection from someone called a cold-hearted killer is a double-edged sword . . . especially when he's the most intriguing man Anisha has ever laid eyes upon.

In a world where treachery abounds, no one can be trusted—and no true passion can be denied. Together, these two tempestuous souls will risk their lives for a love that could redeem them . . . or destroy everything they hold dear.
Mia Marlowe: Touch of Seduction 03 – Touch of a Scoundrel
The Earl of Devonwood usually resents his "gift of touch," which presses a glimpse into the future on him, whether he seeks it or not. But when he finds a lovely American miss sketching the nude statue in his garden and is given a Sending that shows her in his arms for a searing kiss, he thinks better of his gift…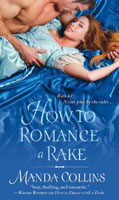 Manda Collins: Ugly Ducklings 02 – How to Romance a Rake
Dancing With Danger – What's a nice girl like Miss Juliet Shelby doing at a place like Lord Deveril's ballroom? With her shy demeanour, she's a total stranger to the dance floor and a source of mockery for the ton. So imagine her surprise when Deveril gallantly comes to her defence – and offers to teach her to dance! Juliet can hardly believe the most handsome bachelor in London would notice her, until he takes her in his arms and sets her heart ablaze…Playing With Fire – Lord Alec Deveril has never felt such a spark of attraction for an unmarried lady before. Unlike the "fashionable" ladies he's accustomed to, Juliet possesses a generous spirit, a fiery intelligence – and an explosive secret. Deep in the London underworld, a dear friend has vanished, and Juliet fears the worst. Deveril insists on helping, escorting her through the darkest alleys in town. But he too is hiding a shocking secret – and the only way he can defeat the devil in his past is to seduce the angel in his arms…
Jennifer Haymore: Donovans 03 – Pleasures of a Tempted Lady
Captain William Langley knows the ocean well, but nothing could prepare him for what he discovers adrift on the cold Irish Sea. The tiny boat carries two passengers: a child–and Meg Donovan, Will's long-lost love. Meg's disappearance at sea eight years ago was a devastating blow. Now she's back, as beautiful as ever, and with secrets as deep as Will's own . . .
After years held captive by a cold-blooded pirate, Meg has finally escaped with little Jake, the boy she's come to love as if he were her own. But the pirate wants his revenge–and Meg must do whatever it takes to shield Jake from the madman. Determined not to lose Meg again, Will vows to protect them both, yet Meg can't risk putting the only man she's ever loved in danger. With the threat to her safety growing, and her passion for Will burning brighter every day, surrendering herself to Will might be a pleasure too tempting to resist . . .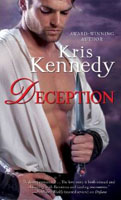 Kris Kennedy: Deception
Breaking and entering to reclaim her corrupt late father's ledger comes surprisingly easily to Sophia Darnly. But is it mere coincidence that her misdeed unexpectedly reunites her with Kier, the outlaw lover who abandoned her years ago?

Time has not erased Sophia from Kier's heart, nor tamed her fiery spirit. She boldly insinuates herself into his plans. But Kier is on a mission of revenge, and can't allow even the woman he once loved to stop him.

The danger mounts as they lure the leader of a powerful consortium who needs the fabled Darnly ledger—and all its damning details about the wealthiest merchants of England— to execute his nefarious plan. Their rekindled passion burns hot, but when they discover they too are the targets of a deadly deception, the fate of their love, and of England itself, lies in the balance.
Kristen Callihan: Darkest London 02 – Moonglow
Finally free of her suffocating marriage, widow Daisy Ellis Craigmore is ready to embrace the pleasures of life that have long been denied her. Yet her new-found freedom is short lived. A string of unexplained murders has brought danger to Daisy's door, forcing her to turn to the most unlikely of saviors . . .
Their growing passion knows no bounds . . .
Ian Ranulf, the Marquis of Northrup, has spent lifetimes hiding his primal nature from London society. But now a vicious killer threatens to expose his secrets. Ian must step out of the shadows and protect the beautiful, fearless Daisy, who awakens in him desires he thought long dead. As their quest to unmask the villain draws them closer together, Daisy has no choice but to reveal her own startling secret, and Ian must face the undeniable truth: Losing his heart to Daisy may be the only way to save his soul.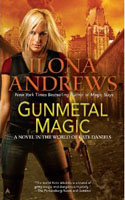 Ilona Andrews: Kate Daniels 5.5 – Gunmetal Magic
After being kicked out of the Order of the Knights of Merciful Aid, Andrea's whole existence is in shambles. She tries to put herself back together by working for Cutting Edge, a small investigative firm owned by her best friend. When several shapeshifters working for Raphael Medrano—the male alpha of the Clan Bouda, and Andrea's former lover—die unexpectedly at a dig site, Andrea is assigned to investigate. Now she must work with Raphael as her search for the killer leads into the secret underbelly of supernatural Atlanta. And dealing with her feelings for him might have to take a back seat to saving the world…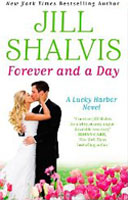 Jill Shalvis: Lucky Harbor 06 – Forever and a Day
Grace never thought she'd be starting her life over from scratch. Losing everything has landed her in Lucky Harbor, working as a dog walker for overwhelmed ER doctor Josh Scott. But the day his nanny fails to show up, Grace goes from caring for Josh's lovable mutt to caring for his rambunctious son. Soon Grace is playing house with the sexy single dad . . .
With so many people depending on him, Josh has no time for anything outside of his clinic and family-until Grace arrives in town. Now this brainy blonde is turning his life inside out and giving a whole new meaning to the phrase "good bedside manner." Josh and Grace don't know if what they have can last. But in a town like Lucky Harbor, a lifetime of love starts with just one day . . .
Laura Florand: The Chocolate Thief
Handsome Frenchman Sylvain Marquis knows what women desire – chocolate. And so he has learned to master a woman's desire…

American Cade Corey has inherited a fortune. Yet she can't buy what she wants: the secrets that melt and stir in the heart of Sylvain's Paris lair. The Parisian sorcerer of artisan chocolate will stop at nothing to guard his secrets from the empress of American chocolate bars. But secrets that can't be bought can be stolen, with hearts melting at the touch of chocolate and skin…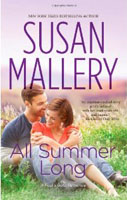 Susan Mallery: Fool's Gold 09 – All Summer Long
Former underwear model turned entrepreneur Clay Stryker has loved, tragically lost and vowed that he'll never risk his heart again. After making his fortune, the youngest of the rugged Stryker brothers returns to Fool's Gold, California, to put down roots on a ranch of his own. But he's frustrated to discover that even in his hometown, people see him only for his world-famous…assets.
Firefighter Chantal (Charlie) Dixon grew up an ugly duckling beside her delicately beautiful mother, a feeling reinforced long ago by a man who left soul-deep scars. Now she has good friends, a solid job and the itch to start a family—yet she can't move toward the future while she's haunted by painful memories.

Clay finds an unexpected ally, and unexpected temptation, in tomboyish Charlie, the only person who sees beyond his dazzling good looks to the real man beneath. But when Charlie comes to him with an indecent proposal, will they be able to overcome their pasts and find a love that lasts beyond one incredible summer?
Lori Wilde: Jubilee, Texas 02 – The Cowboy and the Princess
Brady Talmadge was a cowboy with five unbreakable rules:
1) Never pick up a pretty hitchhiker
2) Avoid damsels in distress
3) Never order chili at a truck stop
4) Always trust your gut
5) Never tell a lie . . .

This is what happened when he broke all his rules . . . and got into a whole lot of trouble!

On the run from an arranged marriage, Princess Annabella of Monesta dons the guise of a hitchhiking cowgirl. But when she finds herself drenched, alone, and hungry, she has no choice but to trust the tall Texas horse whisperer who offers her a ride. He's like no one she's ever known—a strong sexy man who says just what he thinks. And when one wild kiss leaves her breathless, she quickly realizes she'll give up everything to spend a lifetime of night times in his arms. But how can there be happily-ever-after with palace guards hot on her trail?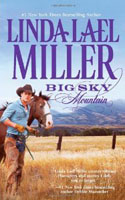 Linda Lael Miller: Swoon-Worthy Cowboys 02 – Big Sky Mountain
With his rugged good looks, vast wealth and family name, hell-raiser Hutch Carmody is still the golden boy of Parable, Montana. But he's done some growing up—making peace with his illegitimate half brother and inheriting half of Whisper Creek Ranch, which should have been all his. These days, Hutch knows there are some things money can't buy: like the heart of loving, ladylike divorcée Kendra Shepherd.
Kendra's quiet mansion reminds her of what she wants most—a devoted husband and the pitter-patter of little feet. She can't get Hutch Carmody out of her mind. But a rough-and-tumble cowboy like Hutch, coming home for family dinner? Seems crazy! Then again, crazier dreams have become reality under the vast Montana sky.