Heute noch die letzten deutschen Neuerscheinungen des Monats sowie jede Menge englische – gleich zweimal vertreten ist Melissa Marr: Mit dem vierten Teil der Sommerlicht-Serie auf Deutsch und ihrem neuen Buch auf Englisch. Und meine Lieblingskatze hat sich auch dazwischen geschmuggelt, obwohl ich ihr gesagt hat, dass sie inmitten von all dem Weiber- und Mädchenkram nix zu suchen hat … ;)

Melissa Marr: Sommerlicht-Serie 04 – Zwischen Schatten und Licht (OT: Radiant Shadows)
Schon seit dem Tag ihrer Geburt hat Ani mächtige Feinde: Sie ist ein Halbling, halb Mensch und halb Dunkelelfe, und gefährdet durch ihre bloße Existenz das Gleichgewicht der Mächte im Elfenreich. Deswegen sollte Devlin sie schon vor Jahren im Auftrag der Königin des Lichts umbringen – dass er damals Anis Leben verschont hat, hält er sorgfältig geheim. Doch als die beiden sich erneut begegnen, fühlen sie sich unwiderstehlich zueinander hingezogen. Ihr erster Kuss setzt Ereignisse in Gang, deren Tragweite keiner von ihnen absehen kann …
Melissa Marr: Graveminder
Before leaving her hometown of Claysville for the comforting anonymity of big city San Diego, twenty-three year-old Rebekkah Barrow attended more funerals than she could count with her grandmother, Maylene. The ritual was always the same: three sips from a small silver flask and whispered instructions into the ear of the recently deceased: Sleep well, and stay where I put you. But when Rebekkah is called home after Maylene is found dead suddenly, mysteriously, violently killed by an unknown intruder it soon becomes apparent that there was good reason for Maylene's odd traditions. Unbeknownst to most of the residents of Claysville, the small town sits alongside the land of the dead, a shadowy world of simultaneous, and often lawless, eras ruled over by the enigmatic Mr. D. a world from which the dead will return if their graves are not properly minded, the dead who have long been tended to by Graveminder Maylene.
Now, Rebekkah must struggle with more than just her grief. She's forced to deal with centuries-old dark secrets; a long-ago, unforgotten romance; dead folk who have been called forth to murder; a strange inability to leave the small town she's been trying to forget; and an unwanted, unavoidable new career as Claysville's Graveminder . . .
Kelley Armstrong: Die dunklen Mächte 03 – Höllenglanz (OT: The Reckoning)
Die Toten beherrschen. Das ist meine Gabe. Meine tödlichste Gabe. Und die muss ich einsetzen. Skrupellos. Wenn ich schlafe, beschwöre ich tote Fledermäuse. Wenn ich träume, schicke ich Geister in ihre Körper zurück. Und wenn ich auf einem Friedhof stehe, wecke ich gegen meinen Willen die Seelen von Tausenden Toten. Auch meine Freunde besitzen unkontrollierbar starke Kräfte, die uns zu einer Bedrohung für die gesamte paranormale Welt machen. Wir wissen nicht mehr, wem wir trauen können und wem nicht. Und so muss ich ausgerechnet diejenigen um Hilfe bitten, deren Zorn ich auf mich geladen habe: die Geister der Toten … Ein wahrlich höllischer Totentanz beginnt!
Angela Gerrits: Glücksschimmer (Originalausgabe)
Seit ihrem Umzug von Hamburg in die bayrische Kleinstadt reiht sich im Leben der 16-jährigen Ruth eine Katastrophe an die nächste. Mit ihren Noten befindet sie sich auf Talfahrt, ihre neue Mitschülerinnen verspotten sie und ihr Schwarm Moritz hat auf der Klassenfahrt an die Nordsee nur Augen für Sonja. Da ist es nur ein schwacher Trost, dass auch Patrizia Liebeskummer hat. Heimlich setzen sich die Mädchen ab und treffen auf den kauzigen Wattführer Ole Feddersen – eine Begegnung, die ebenso faszinierend wie unheimlich ist. Denn Feddersen hütet ein Geheimnis und plötzlich hat Ruth nur noch einen Gedanken: Weg hier!


Lisa Jackson: Danger/New Orleans 02 – Das Gebot der Rache (OT: Cold Blooded)
Ein grausamer Serienkiller versetzt ganz New Orleans in Angst und Schrecken. Er verbrennt, enthauptet oder vergräbt seine Opfer bei lebendigem Leibe. Detective Rick Bentz ermittelt unter Hochdruck. Als die nächste barbarisch entstellte Leiche gefunden wird, ein Heiligenmedaillon in der Hand, kommt dem Detective ein schrecklicher Verdacht: Könnte der katholische Heiligenkalender dem Mörder als Vorbild für diese Ritualverbrechen dienen? Die schöne Olivia, zu der sich der Detective unwiderstehlich hingezogen fühlt, will die Morde in ihren Träumen vorausgesehen haben. Nur wenig später ist sie spurlos verschwunden …
Di Morrissey: Im Licht der roten Erde (OT: The Songmaster)
Als sich Susan und Veronica einer Reisegruppe auf den Spuren der Aborigines anschließen, ahnen sie nicht, wie sehr dies ihr Leben verändern soll: Für die Journalistin Veronica wird ein jahrelang vergeblich verfolgter Traum endlich wahr werden. Die Anwältin Susan wiederum findet auf dieser Reise ihre Berufung: Um für die Gleichberechtigung der Aborigines zu kämpfen, setzt sie selbst ihre Liebe zu dem wohlhabenden Farmer Andrew aufs Spiel.

Simons Katze: Tageskalender und Postkartenkalender 2012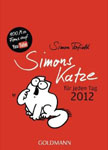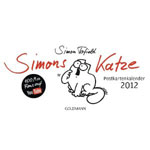 Mary Balogh: Mistresses 01/02 – More than a Mistress/No Man's Mistress
More Than a Mistress: Hired to serve as nursemaid to the wounded Duke of Tresham, Jane Ingleby tries to pretend it's strictly a business arrangement. Surely there could be nothing more perilous than being the lover of such a man. Yet when she gets past his devilish façade and sees the noble heart within, she knows the greatest jeopardy of all—a passion that drives her to risk everything on one perfect month with an improper gentleman who thinks that love is for fools.
No Man's Mistress: Lord Ferdinand Dudley is accustomed to getting what he wants—until he tries to claim his rightful estate from the bewitching Lady Viola Thornhill. Refusing to cede him the home she calls her own—and unwilling to consider marriage—Viola knows that this is a battle she cannot afford to lose. Each day under the same roof brings its share of frustration—and temptation—as both sides in this contest of wills find their resolve melting in the heat of passion's bright flame.
(Neuauflage)
Sophia James: Wellingham Series 03 – One Illicit Night
After one uncharacteristically wicked night, the once-reckless Eleanor Bracewell-Lowen now leads a safe and prudent life.
On his return to London's high society, Lord Cristo Wellingham looks different from the man she knew so briefly in Paris, but he is still as magnetic….
In his cold amber eyes Eleanor detects something she has seen mirrored in her own—longing. His touch invites passion, but this is a man who could destroy her good name with just one glance….
Tiffany Clare: The Secret Desires of a Governess
From the moment Abby meets her new employer – the mysterious, brooding Earl of Brendall – she is appalled by his brutish manner…and even more so by her own attraction to him. Has she lost her senses? As a governess, Abby has no choice but to play by the rules. But as a woman, she cannot deny the fiery sensations he ignites – or the fantasies he inspires…
From the moment Elliott lays eyes on his new young governess, he knows he's in trouble. Abby is intelligent, defiant, and utterly captivating, though Elliott must do his very best to resist her. But as the two grow closer, the passion burns hotter. Soon, the only thing that can destroy their love is the darkest secret of his past – and the secret desires of a governess…


Roberta Gellis: A Tapestry of Dreams
In the name of peace, Lady Audris locked away her dreams of a passionate love, until Hugh Licorne, the only man in England strong enough to defend her from her enemies, claims her as his own.
Stefanie Sloane: Regency Rougues 01 – The Devil in Disguise
Lord William Randall, the Duke of Clairemont, is a rake with little regard for society—a most unlikely suitor for Lady Lucinda Grey. But his latest assignment for the Young Corinthians, an elite spy organization, involves protecting her from a kidnapping plot. To do this, the notorious "Iron Will" must use his devilish charm to seduce Lucinda and convince her he's worthy of her attention. William never planned to become enthralled by the lovely Lady Grey—or to lose his own heart in the bargain.
Beautiful and fiercely intelligent, Lucinda has managed to gracefully sidestep even the most persistent suitors. Until the Duke of Clairemont, that is. She's tempted by his sinfully sensuous mouth and piercing eyes, and finds it hard to resist the champion thoroughbred he offers her in exchange for the honor of courting her. Can she keep him at arm's length when his touch begs her to let him so much closer?
Karen Hawkins: Hurst Amulet 02 – Scandal in Scotland
Despite fame and countless admirers, actress Marcail Beauchamp has never forgotten William Hurst, the audacious seafarer she once loved . . . and lost. Now, forced by a mysterious blackmailer who threatens her family, she must steal an ancient onyx box from the one man she's vowed never to see again.
To save his brother from a ruthless abductor, William must deliver the artifact as ransom. He's stunned when Marcail, more lovely than ever, suddenly appears on his ship. But when she drugs him and steals the box, his fury knows no bounds.
William pursues Marcail, but too late: she has already delivered the box. The estranged lovers realize they must work together—both to regain the artifact that could mean life or death to his family and to destroy the mysterious blackmailer's power over her family. Thus begins a high-stakes quest through the reaches of Scotland, a quest that stirs up long-forgotten memories and an unquenchable passion. . . .


Mary Jo Putney/Kristin James/Charlotte Featherstone: The Wedding of the Century & Other Stories
The Wedding of the Century (Mary Jo Putney): Stunningly beautiful and extraordinarily wealthy, Sarah Vangelder had always wanted more for herself than to be sold into marriage for the price of a dukedom. But marriage to Justin Aubrey might be the adventure she's always dreamed of….
Jesse's Wife (Kristin James): When a late-night walk on her father's ranch inadvertently destroys her reputation, Amy McCallister finds herself married off to Jesse, a sinfully handsome farmhand. But can he convince her to give him her heart, despite their rocky beginning?
Seduced by Starlight (Charlotte Featherstone): Jase Markham, London's most dashing—and notorious—rake, has loved his brother's fiancée for as long as he can remember. When his brother casts Blossom aside, Jase is determined to finally make her his—if she's willing to overlook his scandalous reputation!
Colleen Gleason: Regency Dracula 03 – The Vampire Narcise
Skilled in the seduction of men, both mortal and immortal, Narcise Moldavi is the greatest weapon in her twisted brother's war among the Dracule. Until she falls for Giordan Cale.
Her first searing encounter with Giordan seals their fierce connection for their eternal lives. But Giordan's vow to help Narcise escape her brother's rule is followed by a betrayal more agonizing than sunlight.
Wounded but determined, Narcise ensnares vampire hunter Chas Woodmore in her quest for revenge and to reclaim her life. He wants her, worships her, will kill for her. And the Dracule never forget a wrong— nor do they forgive.