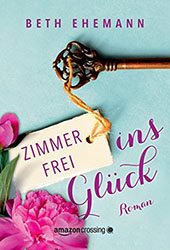 Beth Ehemann: Zimmer frei ins Glück (Cranberry Inn #1)

Klappentext:
Vor vier Jahren zerbrach mein Leben. Mein Ehemann ließ mich und unsere kleinen Zwillingstöchter im Stich. Im Cranberry Inn, der Frühstückspension meiner Mutter, habe ich versucht, wieder Boden unter die Füße zu bekommen.
Dann hat ein Gewittersturm Brody Murphy in unser Leben geweht, einen Eishockey-Profi, der nur seine Karriere im Kopf hat. Und das passt mir gut, denn ich habe kein Interesse an Männern, sondern will vor allem eins: meinen Mädchen eine gute Mutter sein und ihre Zukunft sichern. Doch je mehr Zeit ich mit Brody verbringe, desto weniger kann ich die Augen vor der Wahrheit verschließen: Brody geht mir unter die Haut. Er hat mir den Kopf verdreht und bringt mich stärker durcheinander, als ich es je war.

Was, wenn die eine Sache, von der ich dachte, ich brauche sie, das Einzige ist, das mich zurückhält?
Kommentar:
Der Klappentext sagt alles. Als Brody im Inn von Kacies Mutter strandet, verlieben sich die beiden Beziehungsskeptiker auf der Stelle ineinander. Für den Eishockey-Profi Brody, der bislang nur seinen Sport im Kopf hatte, gibt es ab diesem Moment nichts, was auch nur annähernd so wichtig wäre wie die 25-jährige Alleinerziehende und deren 5-jährige Zwillingsmädchen; der blendend aussehende überzeugte Single ist von einer Sekunde auf die andere geläutert und mutiert zu einem zum Erbrechen perfekten, aufmerksamen und aufopferungsvollen Mann. Kacie hat dennoch hunderttausend Bedenken, warum sie nicht mit ihm zusammen sein kann, obwohl sie nichts lieber will, und so entspinnt sich eine ziemlich langweilige Geschichte, in der Brody die wankelmütige, nervige Kacie ständig aufs Neue davon überzeugen muss, dass er es ernst mit ihm meint. Als wäre das nicht schlimm genug, ist das Buch auch sprachlich alles andere als toll und angereichert mit Adjektiven und Adverben: Es ist ein absolutes Versehen; er hat gar keine Freundin; ihr Haar ist ganz glatt.
Als Eishockey-Liebesroman ist dieses Buch übrigens auch nicht ernst zu nehmen. Abgesehen davon, dass Brody der Goalie der Minnesota Wilds ist und Kacie damit per se Probleme hat, spielt der Sport keine große Rolle. Das ist auch gut so, denn angesichts der Sauf- und Fressgelage von Brody und Viper wäre die Mannschaft vermutlich zum Misserfolg verdammt. Da ist es auch keine Ausrede, dass gerade keine Saison ist; KEIN Profisportler kann es sich erlauben, die Zügel Off-Season so schleifen zu lassen!


5/15
Beth Ehemann: Room for More (Cranberry Inn #2)

Klappentext:
Four years ago, my dreams were shattered in an instant.
Three months ago, I found something I haven't had in years. Hope.
That hope came in the form of a sexy, carefree hockey player named Brody Murphy. He swooped in and won me over with his big heart and the way he cared for me…and my girls. When they look at him, they see the father they've never had.
Now, my past and present are colliding and the outcome might just be too much for me to bear. Can I make the right decision when I've spent my whole life making the wrong ones?
Kommentar:
Warum ich dieses Buch gelesen habe, obwohl mir #1 nicht gefallen hat? Weil ich unbelehrbar bin und mich der Cliffhanger furchtbar neugierig gemacht hat. Zweifellos hätte ich mit meiner Zeit auch was Besseres anfangen können, denn es ändert sich wenig. Die Story ist redundant und nach wie vor langweilig, phasenweise ärgerlich. Kacie ist immer noch eine Nervensäge, die ein furchtbares Hin und Her veranstaltet und aus nicht nachvollziehbaren Gründen von Selbstzweifeln geplagt wird. Zu ihren unerträglichen Eigenschaften kommt jetzt auch noch Lügen (bzw. Totschweigen) – und das ist so dumm und überflüssig, dass ich es kaum erwarten konnte, dass ihr der Mist um die Ohren fliegt. Als das geschieht, verliert sogar der stets perfekte Brody die Geduld mit ihr, sein Verhalten entwickelt sich allerdings in eine ähnlich nervige Richtung wie das seiner Liebsten; er benimmt sich kindisch und – bezogen auf seinen Beruf – unprofessionell.
Ursprünglich wollte ich ja Ehemanns Bücher über Brodys Teamkollegen Viper lesen, aber das werde ich mir schenken. Die Storys der Autorin liegen mir ebenso wenig wie ihre Figuren und ihr Stil.
Die deutsche Übersetzung von Teil 2 – meiner Meinung nach ist das keine Serie, sondern ein Zweiteiler – ist übrigens nicht in Sicht. Da Teil 1 bereits im September 2015 erschienen ist, gehe ich auch nicht davon aus, dass sie noch kommen wird. Offenbar waren die Verkaufszahlen nicht gut genug (trotz unverständlich guter Bewertungen!).


5/15